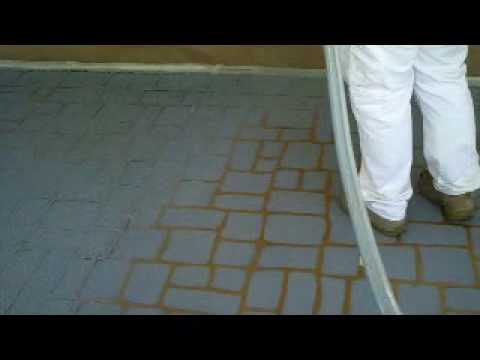 We are installing Seal Kretes Granitex system on 3500 sq. ft. of concrete
Finding a painter who can actually breathe life into the dull walls of your home/office can be quite taxing.
It often happens that your search wretchedly for a painter, hire one, and then end up completely dissatisfied
with the outcome.
The resulting dissatisfaction cannot be blamed on the weather condition or on the paint quality but on your choice of a non-professional painter. So the next time you want your home/office painted, choose only commercial painting contractors with a good portfolio. Being equipped with state of the art technology, commercial painting contractors can deliver the right output within a stipulated time. Equipped with a skilled workforce, painting contractors promise high quality work which is indeed reflected on the walls. brushes, rollers etc. to be purchased for that impeccable finish. Being professional to the core, commercial painters ensure that all work is completed within a promised time-frame. Another great convenience of hiring them is that their work does not cast an obstacle in your daily life which might have been the case had you hired an unprofessional painter.
Continue Reading »How Commercial Painting Contractors Outshine Amateurs!
When asked to write an article on excellence for this publication, I immediately thought of Tom Peters' best selling work of 1982 "In Search of Excellence." It's hard for me to believe it's been 25 years since my dad presented this book to me,
an aspiring young sales rep, telling me, "You need to read this…this guy Peters really gets it!" Well, it's 2007, and while many of us continue to strive for excellence, it seems few actually achieve it. Or do we?
I have learned that excellence is attained most often not by a resounding victory or a large margin of superiority, but instead by a very slight edge. Take an example from our sports culture. Tiger Woods is the number one golfer in the world. His average number of strokes per round in 2006 was 68.11. For this feat and the achievement of win¬ning 8 PGA Tour events, Tiger earned $9,941,563 in purs¬es. Know who was number two? Jim Furyk, with a 68.86 stroke average. That's just 0.75 strokes per round more than Tiger. Talk about a slight edge! But that one stroke per round earned Tiger $2,731,000 more than Jim. So if excellence is a very slight edge, why don't more of us achieve it?
I believe it's because we view excellence from the wrong side of the definition. I challenge you to think of excellence not as a standard set by your peers, your customers, or our society, but instead by yourself. Excellence starts with our attitude and beliefs about ourselves and our company. From my sales and management training experiences, I've learned that we can only perform in a manner consistent with the way we perceive ourselves. Let me say that again you can only perform as well as you see yourself performing. If you want to be excellent, you have to envision yourself that way. You have to believe that you offer an excellent service. How do you see yourself? Your business?
Questions for Joe Pullaro "Tampa Bay's number #1 Paint Contractor"
Why is it important to "Pressure Wash" surfaces before painting? Building exteriors are the most common surfaces where business and homeowners consider a thorough pressure wash as regular maintenance or preparation for painting or resurfacing areas. Many other surfaces that need pressure wash maintenance are parking lots, decks, boats, trailers, equipment, mobile trailers, plus more. A thorough Pressure Wash is important to maintain and remove the following:
Old and layered peeling paint coatings
Mold and mildew developed due to weather / environmental conditions
Damage caused to textured surfaces caused by weather conditions.
Preventive measure to avoid progression of damage from conditions that affect surfaces.
Removal of chemicals, oils, and other elements that adhere to surfaces.
Levels of Pressure Washing are:
Low-pressure Water Cleaning – the use of water pressure less that 5000 psi – Most common for office building and home exteriors.
High-pressure Water Cleaning – is the use of water pressure between 5000-10000 psi – Commonly used for more commercial and retail environments with high traffic and exposure to natural or chemical elements.
High-pressure Water Jetting (10000 – 25000 psi)and Ultra High-pressure Water Jetting (above 25000 psi) are water pressure used for high industrial commercial cleaning for buildings and equipments such as factories and airport maintenance.
Pressure Washing is absolutely necessary for Surface Preparation.
Cleansing any hard surface to be refinished – asphalt, concrete, metal. Pressure Washing removes dirt and elements from Highways, Driveways, Parking Lots, Runways, Parking structures and Metal frames.
Continue Reading »Pressure washing as regular maintenance is always the best policy
Questions for Joe Pullaro "Tampa Bay's number #1 Paint Contractor"
I'm getting ready to paint the interior of my house, Should i buy a cheap paint or spend the extra for a High Quality Paint?
With paint like anything else you get what you pay for, and higher quality interior paints offer the best value. The resins in the paint along with the binders give you the quality of finish. Also, the way the product is produced can impact the quality Paint goes through a piece of machinery called a ball mill. This grinds everything together. The size of the balls used and length of time it goes through the mill impacts the fineness of the pigment grind, which impacts the quality of the product.
High quality interior latex paints usually have better adhesion, hiding, spatter resistance, and stain removal characteristics, and they give you greater overall durability. As well going on thicker and smoother than ordinary interior paints do, higher quality Paints produce a better looking job. Buy using a high quality paint from one of the top paint Manufacturer's such as Sherwin-Williams, Benjamin Moore, or Behr to name a few you can be assured of a beautiful finish that will last many years. Picking the right sheen for your Application is just as important as using a high Quality paint, choose what best fits your needs from the following list and you're ready to paint!
Interior Gloss Paint: Gloss paint is the toughest of the sheens: clean-up is a breeze and it resists scuffs better than other types of paint.
(Keep in mind, though that high gloss paint does show surface imperfections more than say flat latex.) But high gloss is easy clean up and durability makes it an excellent choice for high use areas like bathrooms and kitchens. Interior Semi-Gloss Paint Semi-gloss paint is likewise perfectly suited for all trim work as well as kitchens, bathrooms and doors. It's just as durable and easy to clean but has slightly less shine than high-gloss interior paint.
Continue Reading »Higher quality interior paints offer the best value
Questions for Joe Pullaro "Tampa Bay's number #1 Paint Contractor"
Joe, I was told i need to use epoxy paints for my garage floor. I have no idea what what epoxy paint is. Would you explain?
Epoxy Paints come in lots of 'flavors.' The purpose of this page is to get you up to speed about epoxy paints and to compare the different types of Epoxy Paints, Here is the Definition of Epoxy Paints from Answers.com "Any of various usually thermosetting resins capable of forming tight cross-linked polymer structures characterized by toughness, strong adhesion, and low shrinkage, used especially in surface coatings and adhesives."
What separates general purpose epoxy paints (and non-epoxy paints) for epoxy and non-epoxy floor paints, plain marine resins, or even water, is their thixotrophic properties. The term has to do with internal gelling of the paint. Thixotrophic additives, such as fumed silica, give the coating the ability to 'gel' after application. This means when applied to a vertical surface, such as a wall, the coating will be as t hick at the top of the wall as it is at the bottom of the wall.
Regular marine epoxy, floor paints/epoxies, and water, are non-thixotrophic and if applied to a wall would tend to flow or slump to the bottom of the wall, leaving very little of the coating near the top of the wall. The advantages of epoxy paints is that they can handle full time immersion, strong chemicals, and are very impermeable as well as tough. Many are solvent free so wet thickness will equal dry thickness (cracks will not reappear as the epoxy cures) and they are nearly odorless. Some can even be applied underwater. The disadvantages of epoxies are that they tend to be brittle, quickly yellowing sunlight (white becomes a creamy color, light blue becomes light green, etc.) and lose their shine in sunlight. The yellowing and loss of gloss (even chalking in some cases) is due to the affect of UV on ALL epoxies (some epoxies will yellow in days, others take weeks but they all do eventually).
Continue Reading »Definition of Epoxy Paints